(Cheaper Version) Optimum Nutrition 100% Gold Standard 5lbs Whey
ProteinLab sport supplement supplier / wholesaler malaysia presents!
Optimum Nutrition (ON) Gold Standard Whey Protein 5LBS!
Be safe and rest assure you are getting 100% authentic products at the lowest price when you purchase from ProteinLab Malaysia.
You can also like our facebook for more promotion news at :
Or you can also follow instagram for more nutrition tip :
NOTICE :
THIS ITEM IS TO CATER FOR CUSTOMER WHO PREFER TO GET CHEAPER PRODUCT OVER QUALITY!
Whey Protein Isolates (WPI) are the purest form of whey protein that currently exists. WPIs are costly to use, but rate among the best proteins that money can buy. That's why they're the first ingredient you read on the Gold Standard 100% Whey label. By using WPI as the primary ingredient along with premium ultra-filtered whey protein concentrate (WPC), we're able to pack 24 grams of protein into every serving to support your muscle building needs after training. ON's attention to detail also extends to mixability. This superior quality powder has been instantized to mix easily using a shaker cup or just a glass and spoon. There's no doubt that this is the standard by which all other whey proteins are measured.
· 100% Original product
· Whey Protein Isolate (WPI)Main Ingredient
· Whey ProteinMicrofractions from Whey Protein Isolates & Ultra-Filtered Whey ProteinConcentrate
· Over 4 Grams of Glutamine& Glutamic Acid in Each Serving
· More Than 5 Grams of theNaturally Occurring Branched Chain Amino Acids (BCAAs) Leucine, Isoleucine, andValine in Each Serving
· The "GoldStandard" for Protein Quality
BLENDER – (EASY: a little more involved but worth the trouble) Add one scoop of ON 100% Whey Gold Standard™ to a blender filled with 6-8 fl oz of your favorite beverage. Cover and blend for 20-30 seconds. Add 1-2 ice cubes then blend for an additional 30 seconds. Serve. For a delicious smoothie, try adding your favorite fruit, peanut butter, yogurt, shredded coconut, and/or other ingredients (along with ice cubes) to your blended whey protein shake.
Shaker – (EASIER: Quick & Convenient) Fill a shaker bottle with 6-8 fl oz of your favorite beverage. Add one scoop ON 100% Whey Gold Standard™. Cover and shake for 25-30 seconds.
Suggested Use: To encourage a positive nitrogen balance, consume approximately 1 gram of protein per pound of body weight per day from a combination of high protein foods and supplemets. For even better results, consume your daily protein allotment over 4-6 small meals spread evenly throughout the day.
Example: 180lb x 1g protein/lb body weight=180g day
180g ÷ 6 small meals = 30 g protein/meal
Each serving of ON 100% Whey Gold Standard™ provides 24 grams of protein.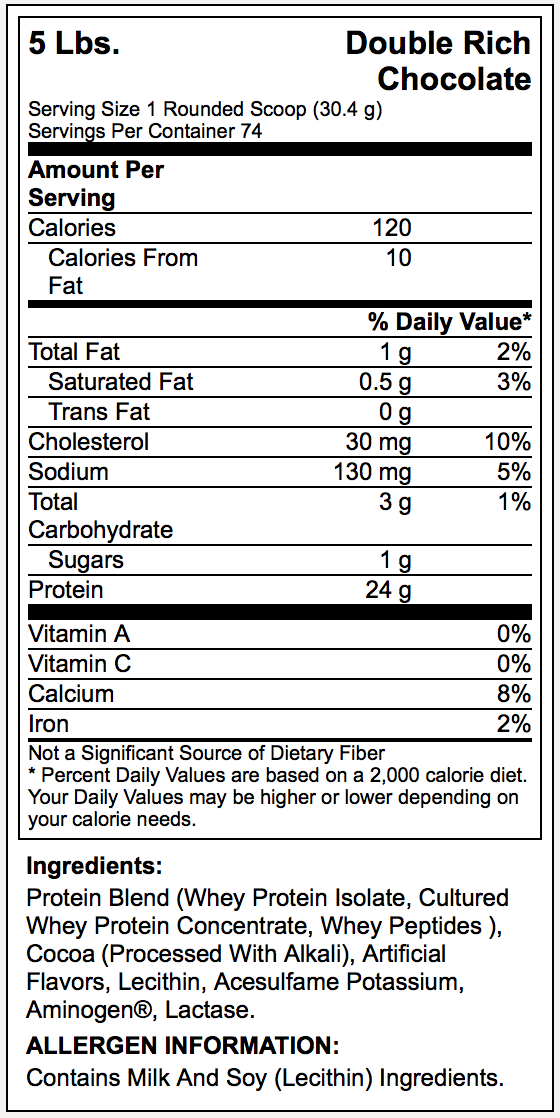 Other Ingredients: Protein Blend (Whey Protein Isolate, Whey Protein Concentrate, Whey Peptides), Lecithin, Acesulfame Potassium, Artificial Flavor Storage Instructions: Store in a cool dry place. Warning: KEEP OUT OF REACH OF CHILDREN.
NOTICE:FOR USE AS A DIETARY SUPPLEMENT ONLY. DO NOT USE FOR WEIGHT REDUCTION.
ALLERGEN INFORMATION: THIS PRODUCT CONTAINS WHEY DERIVED FROM DAIRY AND LECITHIN (TO IMPROVE MIXABILITY) DERIVED FROM SOYBEANS

---